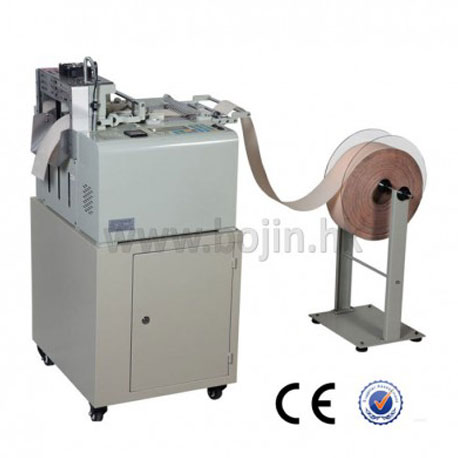 BJ-09L Cold Knife Tape Cutting Machine
Features of BJ-09L Cold Knife Tape Cutting Machine

Belt slitting machine adopts electromechanical integrating technology, it automatically adjusts the length data through the input of computer program.
Automatically cutting various straps of different sizes such as braided tape, plastic tube, bootlace, plastic zipper, electrical wire, label, etc. All the data will be saved auto-matically before put off the switch.
With features of high accuracy, high speed, easy to operate and stop working without materials. It's an ideal machine for increasing of efficiency, improving quality and saving labour.
Character of BJ-09L Cold Knife Tape Cutting Machine

Compensation: It can recover the differences caused by the material flesibility dissimilarity.
Memory: It will save the current data automatically before the machine is closed.
Decimal point: Special decimal point function, raised the accuracy of the product consumedly.
Self-check: When a defect in the system, LD screen will display breakdown source automatically, in order to expel in the convenient check.
Automatic power failure: 1 hour after machine stopped working, the main driving system will break power supply automatically to promise the service life of machine.
Automatic pause: Once the material uses up, it will stop a current work automatically.
Automatically and neatly cut, easy operation.
High speed: It can cut 100~120 cut per minute. (50mm long)
Accuracy: Cut-length is accurate cwing to a stepping motor
Cutting type: Cutting is neat due to using a cold cutter which is durable.
Automatic operation: It works automatically only by setting length and quantity.
Automatic stopper: It stops automatically if materials run out during operation.
Memory: Set-length, set-qty & set-speed are not erased even if power off & on.
Application of BJ-09L Cold Knife Tape Cutting Machine

Woven Tapes, Strip Tapes, Bag Band, etc. But no pure cotton materials
Suitable material: strip tapes, ribbon tape, bag band small webbing, etc.
Specifications And Index Of Bj-09l Cold Knife Tape Cutting Machine

Knife: Cold cutting
CUT LENGTH (mm): 15-99999
MAX CUT WIDTH (mm): 180
SPEED (Piece/min): 120
WEIGHT (kg): 95/75KG
VOLTAGE: AC 110V / 220V 50-60Hz
POWER: 1.4KW
LOADING RATE: 1
PACKAGE SIZE (L.W.H) mm: 550*440*450
| | | | | |
| --- | --- | --- | --- | --- |
| Model Number | BJ-02 | BJ-03 | BJ-05 | BJ-06 |
| Available Width | 5-70mm | 5-110mm | 5-80mm | 5-100mm |
| Available Length | 1-99999mm | 15-99999mm | 15-99999mm | 15-99999mm |
| Knife | Cold cutting | Hot cutting | Cold cutting | Cold cutting |
| Speed | 120pcs/min | 120pcs/min | 120pcs/min | 120pcs/min |
TEL:+86-512-57169166
EMAIL:salome@bojin.hk
ADDRESS:11th Floor, Jingzuan Building, NO. 875 Xiaolin Road, Kunshan, Jiangsu, P.R.C.