Soldering feeder (376) assistant tools, eliminate the soldering splash caused by high temperature. Reliable quality and best price.
Specifications of 376 Feeder With Solder Cutting Function
Rating: DC24V 75mA
Motor Rating: DC24V 130Ma (Rating)
Solder Feed Speed: 27mm/sec
Outer Dimensions: W*H*D 76*96*50(mm); 2.9*3.8*2.0(ln)
Weight: Approximate 590g (1.3lb)
AC Adaptor: Output DC24V
Features of 376 Feeder With Solder Cutting Function
Small body, saving space. Effectively cut open the tin wire.
Eliminate splash engendered by the high-temperature weldings, improve the quality of welding quality.
Active the soldering flux quickly, make one perfect environment for welding. Avoid cleaning after welding, reduce the defective products effectively.
The function of the feed switch can be duplicated using a separately-sold hand switch or foot switch.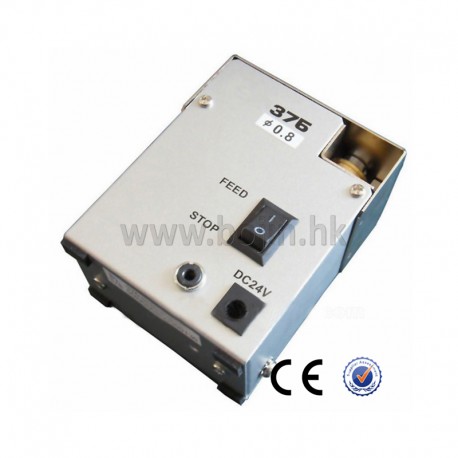 Related Lead-free Soldering Stations
| | | | | |
| --- | --- | --- | --- | --- |
| Model | Voltage | Power | Temperature | Capacity |
| XC-38C | 220V | 150W | 200-450°C | 300g |
| XC-50C | 220V | 200W | 200-450°C | 500g |
| XC-80C | 220V | 250W | 200-450°C | 1600g |
| XC-100C | 220V | 380W | 200-450°C | 2300g |