Features of ET-2000 Lead Free Soldering Station
Welding tip can be removed from the body because of its flexible design. Customers can change welding tips as needed.
The new high-frequency heat-generating technology from German makes it the best choice among lead-free welding devices.
Only less than 12 seconds are required for the change from room temperature to 300, thus greatly improving the productivity.
Automatic shut-down function saves the power and deletes the risk of safety.
The control technology with digital chip used makes the setting of temperature simple and convenient.
The imported core components enjoy a long life in use.
The comprehensive electromagnetic shielding technology avoids the heigh-frequency leakage completely.
The perfect electrostatic design makes it suitable for electrostatic sensitive environments.
Specifications of ET-2000 Lead Free Soldering Station
Temperature set limit: 200 – 420
Input Power: 220V 50Hz
Output Power: 36VAC 400KHz
Maximum Power: 90W / 120W / 150W
Weight: 2kg
Measurement: 129mm x 144mm x 103mm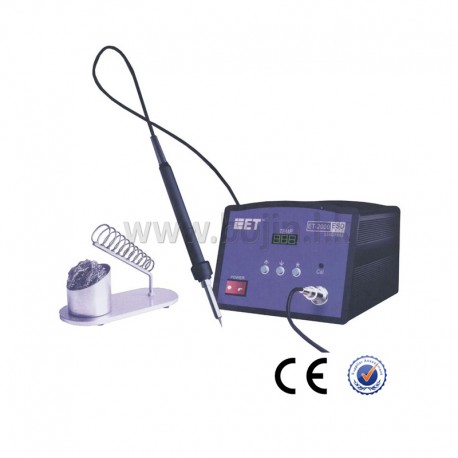 ET-2000 Lead Free Soldering Station
Related Lead-free Soldering Stations
| | | | | |
| --- | --- | --- | --- | --- |
| Model | Voltage | Power | Temperature | Capacity |
| XC-38C | 220V | 150W | 200-450°C | 300g |
| XC-50C | 220V | 200W | 200-450°C | 500g |
| XC-80C | 220V | 250W | 200-450°C | 1600g |
| XC-100C | 220V | 380W | 200-450°C | 2300g |