Specification of Semi-automaitc Mute Wire Stripping And Crimping Machine BJ-1.5TM
Model: BJ-1.5TM
Power source: AC110-220V 50/60Hz
Motor: AC220V 550W
Volume: 520lx520wx600hmm
Weight: 85kg
Pressure: 1.5t
Stroke: 30mm
Wire size: UL1007 AWG#18-32
Stripping length: 2-6m/m
Air pressure: 5-6kgf/cm²
Product features of Semi-automaitc Mute Wire Stripping And Crimping Machine BJ-1.5TM
This machine is wire stripping and crimping coherent operation based.
Host based inverter motor drive, no conventional clutch mechanized operation delay and failure to simplify internal mechanical parts, reducing wear and replacement of mechanical parts, torque, vibration, high stability, providing ultra-quiet working environment.
Stripping part adopts famous brand pneumatic components, can rapidly complete the stripping operation efficient and stable.
The machine is designed with automatic skinning department, inching and automatic return function.
Line approved device specifically designed to draw air and pipeline Unicom easy to clean.
Semi-automaitc Mute Wire Stripping And Crimping Machine BJ-1.5TM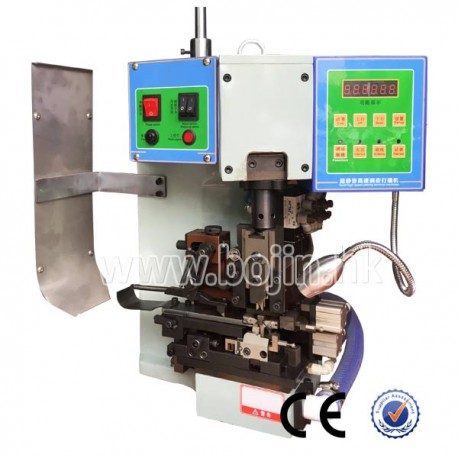 Semi-automaitc Mute Wire Stripping And Crimping Machine BJ-1.5TM